Custom Iron Works carries a wide selection of baluster and spindle styles to complement any home. We pride ourselves in making the experience of buying balusters online easy, affordable, and dependable.
Shop Balusters by Type: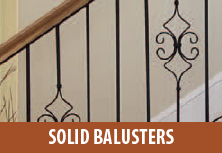 Generally stronger and more durable
Require more steel and can be more expensive
More difficult to cut during installation
Well-suited for both exterior and interior use
Typically have a rough texture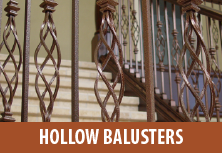 More flexibility and deflection
Require less steel and can be less expensive
Lightweight and more economical for shipping
Utilize higher-quality steel
Easier to cut during installation
Well-suited for interior use
Typically have a smooth texture
Why Buy Balusters From Us?
Since 1974, architects, carpenters, contractors, welders, and end users have relied on our superior quality and low prices. Custom Ornamental Iron Works has established a reputation in the industry for quality service, integrity, and performance. Our customers keep coming back for our:
Price match guarantee
Extensive powder coating options
In-house products (over 85% of all products are made in-house)
Fast, same-day shipping
Expert consultations
Top product quality
Design Your Own Staircase
Looking for a unique staircase or already have a design in mind? Create the perfect set of balusters for your home and order directly from our online store.